WELCOME to ECLAC !
Cultural and Linguistic Stays in Andalucía (ECLA) was created as a correspondent of SCHOOL TRIPS in 1990. In 2007 we extended to Catalonia and we became ECLAC

Since 2009, we have become partners in the ERASMUS+ European Mobility Programs in Córdoba, Spain

ECLAC's founder and director has worked in the world of education in several European countries and in the United States and Australia. Her extensive experience in this field, knowledge of other languages and cultures and the excellent reputation we enjoy among our partners in Andalusia and abroad, allows us to offer optimum services of constant quality.

You are invited to come to Córdoba, Andalusia, where you are assured of an enriching life experience and an interesting internship.

EU Mobility Projects
From 2009 we started to receive students / trainees who have made us gain important experience, especially in the ERASMUS+ Project. We decided to expand our scope of practice to ERASMUS too. Our partner companies network includes both companies and institutions, language schools, municipal services, farmers, wineries etc.....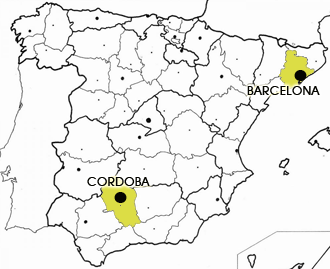 A PARTNER for your European Mobility Projects ERASMUS+ internships
We want to be your ideal and trustworthy partner to bring to fruition your European project.
Letter to the project's COORDINATORS.
Some BUSINESS SECTORS FOR MOBILITY PROJECTS
Agrifood

companies

Alternative Energy and the Environment

Automotive: Machine Shops, Sheet Metal and Sales

Bakery and Pastry Sectors

CRAFTSHOPS :

Leather

, Ceramics, Iron...

Horse breeding and stock farms, riding and equestrian exhibitions schools...

HOSPITALITY SERVICES

: Hotels, Restaurants.....

International Trade and Marketing

JEWELLERY

workshops and shops

Landscaping

, Gardening and Horticulture

Social Services : Homes and Kindergartens

Tourism

: Guides, Tourist information offices, souvenirs shops ....

Viticulture

and Oenology