PARTNER MANAGER for European Mobility Projects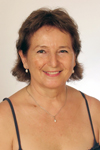 Antonia Navas has worked in the world of education in several European countries, the United States and Australia. She speaks Spanish, French and English.

We assure you of a pleasant collaboration and enriching experience for your students and trainees. Because we devote ourselves to our work and and have over 20 years experience in organising trips, and four years in the Leonardo program, we can offer you an excellent service.

Contact us via email at: cordoba@eclacprogramaseuropeosdemovilidad.com

Or complete and send the form below.